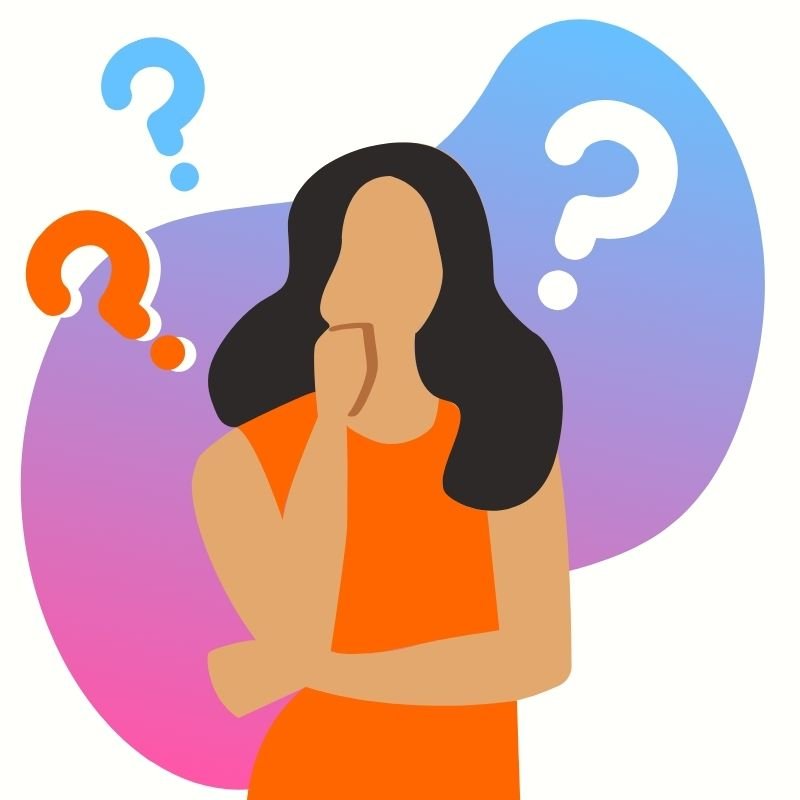 FREQUENTLY ASKED QUESTIONS
Have a question? It may already be answered here in our most frequently asked questions!
What if I need to cancel the rental for any reason?
We understand that life is full of surprises so we try to offer you as much flexibility as possible. There are NO cancellation fees, so if the weather doesn't cooperate on the day of your booking or your child gets sick you can cancel or reschedule at no charge, however, we do appreciate as much notice as possible.
What happens on Bad Weather Days?
Because the safety of your children is our top priority Let's Bounce Inflatables Ltd. reserves the right to make the final decision to cancel a rental due to bad weather. Deliveries could be delayed or cancelled due to bad weather conditions. If the forecast predicts wind speeds of 30km/hr or higher, 60% or higher chance of rain, and/or temperatures below 10 degrees Celsius, we will contact you the day prior to, or the morning of your rental to discuss relocation or rescheduling options. We can under no circumstances set up an Inflatable unit in high winds or if it is actively raining due to the increased chance of injury, electrocution, or damage to the Bounce equipment.

WARNING: Bounce units must never be used when wet inside and/or when winds are 30 km/hr or stronger. Inflatables become very slippery and dangerous when wet. If these situations occur, all riders must be evacuated and the unit must be deflated until the winds die down and/or the rain stops. Once the storm passes, re-inflate the unit and dry off the inside before using the unit again.
What is the difference between Public and Private events?
A Public Event is when the general public has access to the inflatable device and/or any fees are being charged. Bouncy castles used for public events have to be registered with the permit by Technical Safety BC a governing body for Inflatable amusement devices and can only be operated by an employee of a company that holds a valid Technical Safety BC Contractors license and bouncy castle permit. A Private Event is a party where access to the inflatable is restricted to invited guests only and no fees are being charged.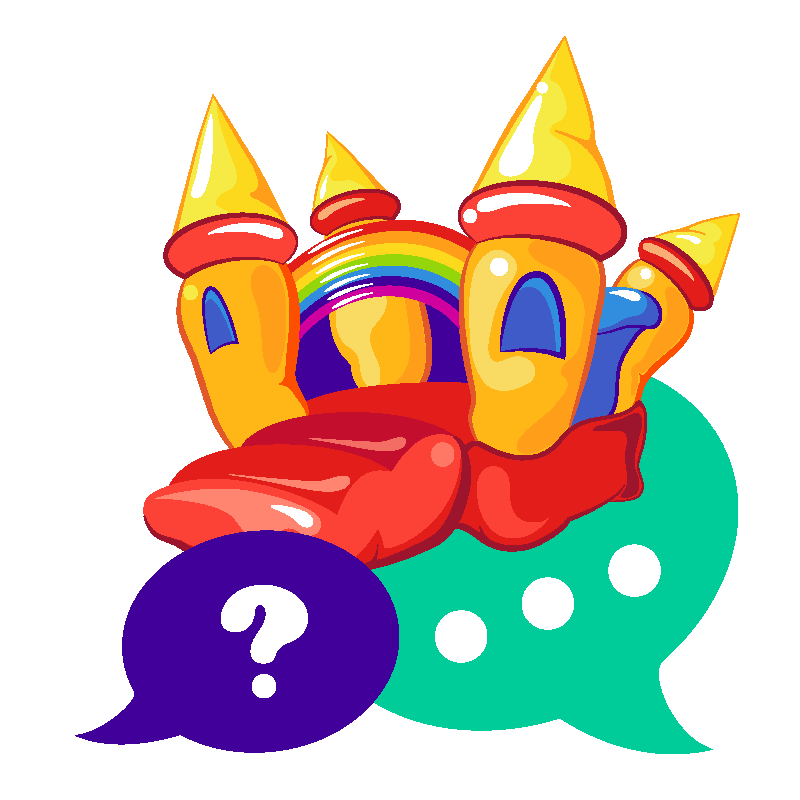 How safe is it to rent a Bouncy Castle?
Our inflatables are constructed with safety in mind and are made with high-quality fire-retardant 0.55 mm PLATO PVC. All of our units have the ramp-step for easy entry/exit and mesh netting which allows for easy viewing. It is important that all users follow the rules listed HERE and in our Rental Agreement
Do you offer promotions and discounts?
If you rent more than one inflatable a day we offer multiple unit discounts: Rent 2 Units – get 5% Off, Rent 3 Units – get 10% Off, Rent 4 or more – get 15% off. 
How many children can bounce at a time?
Please refer to specific bouncer specifications for general guidelines and capacity. However keep in mind that only compatible sized children must play in the unit at the same time, regardless of age. Different sized children must not be mixed. Remember, you want to keep them safe. If needed, split kids into groups. Give each group ten minutes in the bounce house.
Can the Bouncy castle get Wet?
No, dry use bouncy castles cannot be used with water. If the dry use Bouncy Castle is wet upon pick up where it is not due to rain, a $200 drying fee will be charged.
Where can I set up a Bounce Unit?
Our inflatables can be set up at any privately owned or rented location that provides adequate space. Ideally, bounce houses should be set up on grass and secured with pegs, so be sure that the setup area is free of underground utilities. Bounce units can also be set up on asphalt, or cement driveways. In that case, the bounce unit will be secured with sandbags. The setup area should be levelled, with little or no slope.

The surface must be clean of debris (sticks, stones, mud, etc.), tree roots, or pet waste. Please make sure you have no underground sprinkler lines and ensure that the timer is not set to go off during the time of your rental. Under no circumstances will an inflatable be set up on dirt, gravel, sand, or other loose, sharp, or otherwise potentially damaging the surface. A bounce house can be set up indoors given space and power criteria are met, and also making sure that there is enough vertical space once the unit is fully inflated.
How big of an area do I need to set up a Bounce House?
Take the size of an inflatable unit you are renting and add another 2 – 3 feet around its perimeter to provide safe access, prevent equipment damage, and allow for blowers to be hooked up. Make sure to measure in advance as our staff will not set up a Bounce in an area that is unsafe for the equipment or the participants. This does not only apply to the ground but also means that there cannot be any overhead obstacles such as branches or power lines above the area that the bounce will be placed.
Do you charge for delivery and setup of your Inflatables?
For private parties in the Lower Mainland area, we deliver at no extra charge between 8:00 am -12:00 Noon and pick up between 6:00 pm – 9:00 pm depending on our delivery/pick up schedule. If you require specific delivery and pick-up times there will be an additional charge of $50, as it might be out of our delivery route or a separate trip. Please contact us to find out our delivery rates outside of the Lower Mainland area.
What method of payments do you accept?
We accept VISA, MasterCard, Debit or cash upon delivery. We can also accept e-transfers two days prior to your event.
Do we have to pay Deposit or Reservation Fees?
No, we do not ask for deposits and don't charge reservation fees. Full payment is due upon delivery.
Do I need to clean the Bounce House when the party is over?
As long as it is general cleaning, we will do it. If excessive cleaning is needed, a cleaning charge of $50 will be required.
I am planning to have my child's party at a park, can I have one of your bouncers there?
We can set up our units in local parks, however, The City may require that you purchase a permit and/or reserve a site. Please check with The City before booking. Also keep in mind that you will need to make sure the site is equipped with power outlets, if not you will also need to rent a generator.
Are there any special power requirements?
Our Bounce Units require one or more standard 110 V household outlets on separate circuits. We will supply up to 50 feet of an extension cord if necessary.  We ask that you do not plug anything else in the same outlet as the one used for the bounce house, this could cause a power failure or circuit to trip. We have Generators available for rent in case if there are no power outlets or the power source is more than 50 feet away.
What kind of access do you need when you deliver the Bounce Unit?
The Inflatables are wheeled in using a dolly, so we will need about 3.5' wide path to get the castle into your yard or venue. There may be an additional charge for challenging deliveries (e.g. very steep hill, stairs).
How long do I get to keep the Bounce House for?
We mostly offer one-day rentals. Our Inflatables usually get delivered in the morning between 8 am and Noon depending on our delivery schedule and then collected in the evening between 5 pm and 8:00 pm depending on our pick-up schedule. Specific delivery and pick-up times can be arranged for an extra fee. Depending on the time of the year delivery and pick-up times may vary.
How long does it take to set up a Bounce House?
Most bounce houses take about 20-30 minutes to set up.
Will the Inflatables harm my lawn?
We cannot guarantee that the inflatables will not affect your lawn. In most cases, it will only temporarily flatten the grass, which should recover in a few days.
What are your rules and warnings?
Follow safety banner rules printed on the inflatable and all operating rules listed below whenever the inflatable is in use.

Adult supervision is required at all times. Never leave children unattended. 

People with the following conditions, but not limited to, head, neck, back or other muscular-skeletal injuries or disabilities, pregnant women, small infants and others who may be susceptible to injury from falls, bumps or bouncing should not use this product. Please consult a physician if you have any concerns about using this inflatable product.

Ensure that the maximum occupancy is observed and controlled. For weight capacity please refer to individual inflatable unit specifications listed on our website.

All riders should be of compatible height and weight.

Do not place any potential fire hazard elements such as BBQs or fire pits near the inflatable.

No fireworks near the inflatable.

Do not use the inflatable while it's raining, in strong winds with speeds of 30 km/h (20 mph) or higher, and extreme weather conditions.

The inflatable is to be anchored to the ground with ground stakes or 25 kg (55 lb) sandbags while in operation. The operator of the inflatable should check ground stakes regularly during play to ensure they remain securely in the ground. If sandbags are used make sure they are securely attached to the inflatable.

The inflatable must be fully inflated before anyone is allowed inside and it must remain fully inflated until everyone is out. 

The operator of the inflatable should check frequently to make sure that buckles on the inflation tubes are tightly attached to the blower and all deflation zippers are sealed to prevent air leakage. If more than one blower is being used make sure all blowers are pumping air. 

No water should be allowed in, or near, the dry use inflatable. Keep the jumping area, blower(s) and the power cord(s) dry. 

Keep children away from the blower and deflation zippers. Do not allow running around the inflatable.

Do not allow wrestling, running, doing somersaults, pushing or climbing the walls (inside or outside), and grabbing or pulling on the basketball hoops of the inflatable.

Everyone should bounce away from each other, and stay away from openings and sidewalls.

Netting on the walls of the inflatable is ONLY intended to be used to reduce the risk of injury from falling off the inflatable. Do not allow anyone to intentionally kick, lean on, bounce against, climb on, hang from and jump over the netting.

Do not allow anyone to play on the ramp of the inflatable.

Do not allow anyone to run or jump through the entrance of the inflatable. Everyone should enter and exit the inflatable in a seated position.

Remove shoes, eyeglasses, jewelry or any sharp or hard objects before entering the inflatable unit.

Riders should not wear loose or baggy clothing, scarves, hoods, clothing with drawstrings and bring in any objects that may cause choking hazards while playing in the inflatable.

No food, beverages, gum or candy in the inflatable at any time. 

No Confetti and absolutely no Silly String (or any similar substance) should be allowed in or around the inflatable. 

No pets are to be allowed in or near the inflatable at any time.

Store the inflatable in a dry, clean area when not in use.

Evacuate the inflatable unit immediately if it begins to lose air. Follow Evacuation and Emergency Procedures listed below.

RULES FOR INFLATABLES WITH SLIDES

Only one person at a time is allowed on each slide climbing wall and the slide.

No one should be allowed to slide down head first or on their stomach. Never stand up on the slide platform or on the slide itself. Never jump off of a slide.

INFLATABLES WITH WATER SLIDES

Water is only allowed on the slide area and in the pool area. Jumping area should not have pools of water. Keep the blower(s) and the power cord(s) dry. 

Never dive or jump into the pool area. No one should be allowed to slide down head first or on their stomach. Never stand up on the slide platform or on the slide itself. Never jump off of a slide. 

Always drain water from the inflatable after use. Do not leave it inflated or full of water unattended or overnight. Make sure no one drinks pool water. Ensure everyone practices good pool hygiene.   ​

EVACUATION AND EMERGENCY PROCEDURES

In case of unexpected deflation such as power outages, blowers being disconnected, circuit overload, etc., the operator of the inflatable must ensure that everyone exits the inflatable immediately. People inside the inflatable must be instructed to exit one by one in an orderly manner. 

The inflatable unit should not be used/operated in the dark. If operating without adequate natural light source the operator of the inflatable unit must carry a flashlight in case of an unexpected power outage. Using a flashlight operator must guide everyone out of the inflatable one by one in an orderly manner. Then turn off the blower and disconnect the power. 

If during an outdoor event extreme weather conditions occur such as rain, high wind, snow, or hail, etc., the operator of the inflatable unit must instruct everyone to exit the inflatable immediately. People inside the inflatable must be instructed to exit one by one in an orderly manner. Make sure everyone is out. After everyone has exited the operator must immediately turn off and unplug the blower(s), open the deflation zippers, and allow the unit to fully deflate. Cover the inflatable unit with a tarp to minimize it getting wet or damaged. 

In case of fire, the operator of the inflatable must ensure that everyone exits the inflatable immediately. People inside the inflatable must be instructed to exit one by one in an orderly manner. Call your local emergency response department if needed.​
ADAPTING TO COVID-19
1. It is the customers' responsibility to abide by all government and public health rules during the rental. It is important that we continue to respect the social distancing measures in place.
2. If you or anyone in your household is showing symptoms consistent with COVID-19, has been exposed to someone who has COVID-19, or is currently in self-isolation as a result of travel, you have to notify us immediately to cancel the rental.
3. To minimize the contact with our setup team, please advise children to stay indoors when we arrive to set up the inflatable. Once our team leaves the property kids can start jumping.
4. Once it's time to pick up, please direct children of the inflatable so that our team can start cleaning and sanitizing.
Still Have Questions? Please feel free to contact us. We'll be happy to help.